ABLEnow and NWBA Announce Partnership Agreement makes ABLEnow the official ABLE program of the NWBA.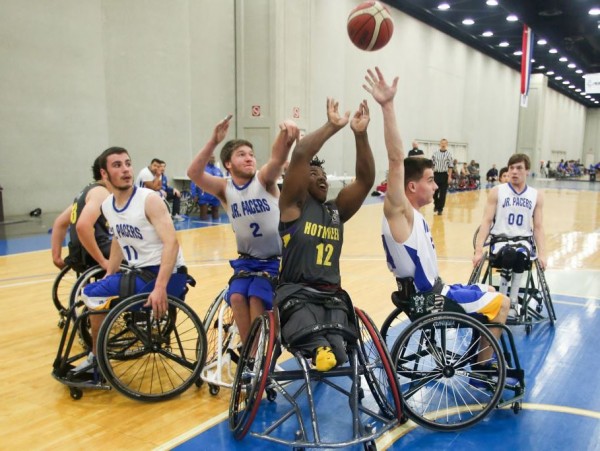 RICHMOND, Va.—Many Americans with disabilities think old rules still apply—that they can't save for the future if they are receiving means-tested disability benefits. ABLEnow and the National Wheelchair Basketball Association (NWBA) have teamed up to educate athletes about ABLEnow accounts, a new financial tool that empowers eligible individuals with disabilities to save up to $15,000 a year without impacting most benefits they rely on every day.
As part of the exclusive partnership, ABLEnow will be the official ABLE program of the NWBA. Athletes and their families will receive educational information about these tax-advantaged accounts to understand who qualifies, ways the funds may be used and how to enroll online. Plus, ABLEnow representatives will be available to answer questions and cheer on teams from across the country at the 2018 National Wheelchair Basketball Tournament in Louisville, Kentucky on April 12-15, as well as other select NWBA events over the next two years.
"We are excited to work alongside the National Wheelchair Basketball Association to spread the word about ABLEnow and emphasize ability over disability," said Mary Morris, CEO of Virginia529, the agency that administers ABLEnow. "Millions of ABLE-eligible individuals are not aware that federal and state laws have changed to create these new programs. ABLEnow looks forward to helping the NWBA community save for today's expenses and invest for the future while maintaining essential benefits."
"The National Wheelchair Basketball Association is excited to partner with ABLEnow and highlight the valuable service they can provide to our membership," said Anthony Bartkowski, Executive Director of the NWBA. "As our athletes know, competing in wheelchair basketball serves as a means for recreation and promotes a healthy lifestyle for those with physical disabilities. However, equipment and tournament travel can be expensive. As we seek out strategic partnerships, we focus on partners like ABLEnow that are beneficial to our membership and encourage growth for the sport of wheelchair basketball."
To learn more and open an ABLEnow account, visit able-now.com.
###
About ABLEnow
ABLEnow® is a national ABLE savings program for eligible Americans living with disabilities. Since its national launch in December 2016, ABLEnow has grown to be the country's largest independent ABLE program, with accounts in all 50 states. Call 1-844-NOW-ABLE or visit able-now.com to obtain information on the program.

We encourage you to seek the advice of a professional concerning any financial, tax, legal, federal or state benefit implications related to opening and maintaining an ABLE account. Participating in this program involve investment risk including the possible loss of principal. For non-Virginia residents: other states may sponsor an ABLE plan offering state tax or other benefits not available through Virginia529's program. ©2018 Virginia College Savings Plan. All Rights Reserved.
About NWBA
The National Wheelchair Basketball Association (NWBA) is the recognized National Organization for Wheelchair Basketball by the International Wheelchair Basketball Federation and the High Performance Management Organization by the United States Olympic Committee. The NWBA trains and selects teams for participation in the Paralympic Games, World Championships, and other international competitions. The NWBA was founded in 1948, and today consists of seven divisions including: Adult Division (I-III), Women's Division, Intercollegiate Men's Division and Intercollegiate Women's Division, as well a Varsity and Junior Prep Divisions.
The National Wheelchair Basketball Association hosts the NWBA National Tournament each year where the top teams from each division come together to compete for their national title. The 2018 NWBT presented by ABC Medical is scheduled for Louisville, Kentucky, April 12-15. For more information, visit: www.nwba.org.