Virginia's ABLEnow Program Marks One-Year Anniversary The country's largest independent ABLE program celebrates growth with outreach events and a special gift for its first account holders.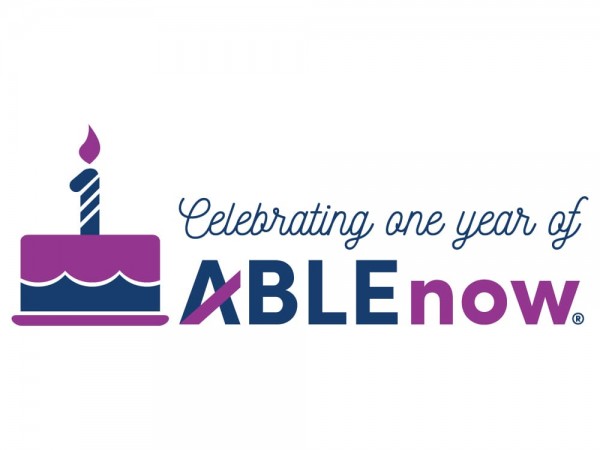 RICHMOND, Va.—Since its national launch in December 2016, ABLEnow has provided more than 2,000 Americans with disabilities a new way to save toward financial independence and a better quality of life. ABLEnow has quickly grown to be the country's largest independent ABLE program, with accounts in all 50 states. To celebrate, each customer who opened an ABLEnow account during the program's first year will receive $25 to jumpstart their 2018 ABLEnow savings.
"One of the most rewarding projects of my career has been partnering with friends and advocates in the disability community to bring ABLEnow to life," said Mary Morris, CEO of Virginia529, the agency that administers ABLEnow. "I applaud our customers for contributing more than $5 million to their ABLEnow accounts during the program's first year. For many, it's the first time they've been able to save for the future without impacting essential benefits. Our program's early success motivates us to grow and enhance ABLEnow to make a difference in the lives of even more individuals with disabilities and their families across the country."
Following the federal ABLE Act, Virginia was among the first states to offer a national ABLE program. ABLE accounts provide people with disabilities and their families the opportunity to gather resources for today's needs or invest for tomorrow. These simple, affordable and tax-advantaged accounts allow eligible individuals to save up to $14,000 in 2017 and $15,000 in 2018 without endangering eligibility for certain means-tested benefit programs such as Medicaid and Supplemental Security Income (SSI).
According to the ABLE National Resource Center, approximately 10 million Americans with disabilities may be eligible for an ABLE account, but less than 15,000 have enrolled. To continue spreading the word about this transformative new tool for financial independence, ABLEnow will be sharing information and anniversary treats at the following upcoming events:
Abilities Expo
Dec. 1-3, 2017
Dulles Expo Center, Chantilly, Va.
Future Quest
Dec. 2, 2017
George Mason University, Fairfax, Va.
Different Abilities Day Celebration hosted by Project: Just Like You
Dec. 3, 2017
Children's Museum of Richmond (Central), Richmond, VA
The Next Move Program Pioneer Awards (ticketed)
Dec. 5, 2017
Virginia Commonwealth University, VCUarts Depot, Richmond, VA
College Steps Open House
Dec. 14, 2017
Northern Virginia Community College, Loudoun Campus, Sterling, VA
Organizations interested in sharing information about ABLE accounts with their group or event are invited to contact ABLEnow.
To learn more and open an ABLEnow account, visit able-now.com.
About ABLEnow
In December 2016, with an expanded mission, Virginia529 launched ABLEnow®, a national ABLE savings program for eligible individuals living with disabilities. Call 1-844-NOW-ABLE or visit able-now.com to obtain information on the program.
We encourage you to seek the advice of a professional concerning any financial, tax, legal, federal or state benefit implications related to opening and maintaining an ABLE account. Participating in this program involve investment risk including the possible loss of principal. For non-Virginia residents: other states may sponsor an ABLE plan offering state tax or other benefits not available through Virginia529's program. ©2017 Virginia College Savings Plan. All Rights Reserved.
# # #